Happy Birthday to you…
Dr. McEathron often talks to patients about how to slow down age-related vision changes to their vision and eyes.  It's his gentle way of bringing up the inevitable- along with the rest of our body- our eyes change as we age.  This blog post is part one of a discussion on how to slow down those birthday induced changes to your eye health and vision.
Here comes the sun…
There is much talk about protecting your skin from the sun- wearing sunscreen daily and link between UV exposure and skin cancer- but let's talk about your eyes.  The tissue on and around our eyes is thinner and more sensitive than the rest of our body.  Eyes can sunburn with a great amount of sun exposure in a short time. This effect is called photokeratitis and can be very painful.  Symptoms can include watery eyes, burning and feeling like grit is in your eyes.  Thankfully it is typically short-lived (up to one week) and usually has no long term effects.
Long term UV exposure to our eyes can however have long term effects, including on our age-related vision changes. UV-A and UV-B light rays speed up the process of forming a cataract and increases the risk of macular degeneration.  Both of these conditions affect your vision – cataracts make the world seem cloudy and blurry- which cannot be corrected with glasses, only surgery.  Macular degeneration is a loss of the central vision- a blind spot that is irreversible.  As previously mentioned- the skin around the eyes and tissue on the eyes is very thin. Consequently, excessive sun exposure without proper protection can lead to skin cancer and premature signs of aging, therefore furthering age-related vision changes.
Sunglasses protect your eyes today and tomorrow!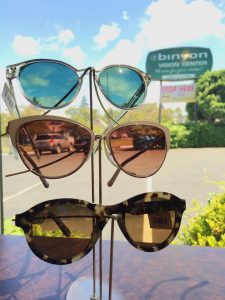 Whenever you spend time outside, there are easy ways to protect your eyes from the sun to help reduce the risks discussed above.  Wearing quality sunglasses that provide 100% protection against UV-A and UV-B radiation is the first step.  Transition lenses (that darken in sunlight) also provide 100% UV protection.  Wrap-around sunglasses provide the most amount of protection.  Don't forget about protecting children and young adults eyes too!  They typically spend the most time in the sun. Therefore, implementing the sunglasses habit can make the biggest impact to their long term eye health. It does this by reducing the amount of accumulative hours of UV exposure!
See Cleary – Check Yearly
In addition to sun protection- yearly eye exams to monitor eye health in all of these risk areas are very important.  If you have any questions or concerns- please contact us for an appointment today or stop in to talk with one of our opticians about sunwear!