Peter James Photography and Web Design
I hope that you've noticed the beautiful photo of Mt. Baker on the top of our website and of Whatcom Falls in the slide show on our website.  There's no question that we live in one of the most beautiful, picturesque areas of the world.  Peter Klco of Peter James Photography has an amazing eye for capturing an overall breathtaking photo of our landscape with an attention to the small details that will leave you mesmerized.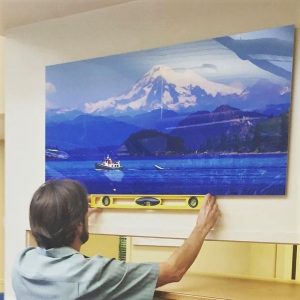 Peter also does web design and we had the great pleasure of working with him on our website last summer.  He makes the design and site construction process very personalized, well organized. And, brings a wealth of knowledge on the ever changing landscape (intended pun) of marketing yourself successfully on the internet.
Photography and Optometry – Visual Geeks!
We found many similarities between our worlds of photography and optometry. Both are centered on the visual system and how to create the best possible images for our consumer.  Peter has a variety of cameras, lenses and equipment to create his images – while Dr. McEathron will sometimes prescribe a variety of glasses prescriptions to help create the clearest image at different distances (distance, reading, computer).
There are many choices of medium to print Peter's images on. Lately he's chosen metal as a substrate of choice because of how vivid and bright the images appear.  We have many choices in lens materials and designs to offer our patients in glasses. We first recommend digital freeform lenses. These provide vision most accurate to the prescription and customized for how the patient wears it in their particular frame.
It was a joy to work with Peter and his team and we'd like to invite all of you to become familiar with his fantastic photography work and to seek him out for assistance with a website if the need arrives!  In addition to providing high quality work, the team is committed to giving back by planting 100 trees for every photo purchased and website created through the Trees for the Future campaign.