Hello Sunshine!
We purposefully choose not to do many "package deals" because we believe your eyes and therefore glasses lenses needs are as unique as you. And, we enjoy discussing the thousands of options available with you to customize a great pair of glasses.  However — this summer we've partnered with our lab to create an amazing polarized sunglasses lenses package. It combines the best features available in prescription sunglasses. It is also at a great price and still offers some customization options!
Why polarized sunglasses?
The sun's rays reflect light in every direction. When this light hits a flat surface (roads, water surface, windshield of oncoming car), the reflected light shines back at your eyes and is concentrated- causing glare.  Glare reduces your depth perception, distorts your vision and color perception. Glare can even temporarily blind you!
Polarized sunglasses are designed to absorb horizontal light waves which neutralizes glare. This allows you see to objects more clearly without the shine.  Tinted lenses reduce the amount of light that travels through the lens, but does not have this benefit.  All polarized lenses provide 100% protection against harmful UV-B rays that prematurely age your eyes and the skin around your eyes.
Not convinced?  Let us show you a demo!  Especially in Bellingham when the sun shi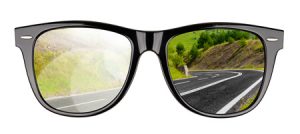 nes after a rainstorm and we are surrounded by beautiful bodies of water to play on- polarized lenses are life changing.
Polarized Lenses Package – the details
Included in our polarized prescription sunglasses lenses package are top of the line polarized freeform lenses (either single vision or progressive lens designs). These have premium backside anti-reflective coating.  Lenses come standard with polycarbonate material, an impact resistant material that is lightweight and durable. 

All lenses have an eighteen-month warranty including two remakes for any reason.  Your satisfaction is our top priority.  Optional upgrades include mid-index and hi-index plastic, full personalized freeform lenses or mirror coatings (multiple colors available).  The package savings are over $150 and are still eligible for our multiple pair discount! We have a great selection of sunglasses frames and lenses! Please stop in to talk to our obticians and discuss the polarized lenses package!