In a previous post, we focused on how the lenses in online glasses could present vision and safety problems.  We return to this topic of comparisons by focusing on the frames first…
Reasons 4 – 7 to NOT buy Glasses Online…
4. How long do you wear shoes that don't fit right?
If you're a long time glasses wearer you might know what we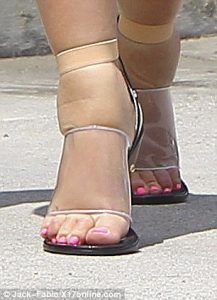 mean here…  A poorly fitting pair of glasses can really ruin your day.  You're constantly pushing them up your
nose, your head feels like it's in a vice or where it curves behind your ears seems to hit a pressure point that is aching by the end of the day.
It is obvious that you wouldn't know about any fit issues unless you try the glasses on.  Some online companies allow you to do that- which helps. However, a few minutes on your face doesn't necessarily equal a full 16 hour day of wearing the glasses with your lenses (which are heavier than the demo lenses).  The shoes felt so comfortable in the store when I tried them on…
We'd like to strongly advocate having a professional optician who is trained to see and explain any fit issues help you find something that fits comfortably!
Speaking of opticians- they are also trained to adjust glasses.  While they help you find the proper pair of glasses they are evaluating whether or not it's possible to make adjustments to the frame to make it more comfortable or not- in some instances it's not.  With a plastic bridge without nose pads (fixed bridge) – if it slides down your nose- it will always slide down your nose- there's nothing that can be adjusted to prevent that.  However- if it bugs you where it's sitting behind your ear?  Or is it sitting crooked because gasp!  your ears are slightly asymmetrical (don't worry that's 99% of the population).  An optician is here to help.
An ill-fitting frame can really cause a lot of problems.  Headaches, fatigue, red marks on your skin due to imbalanced weight of a frame on your nose… there are many well made glasses out there that will fit your face well and comfortably saving you lots of grief.
5. Just a slight adjustment = sweet relief
On the topic of frame fittings…  nothing stresses a trained optician more than adjusting low quality frames.  Inexpensive materials used to make inexpensive frames do not cooperate well and often lose form soon after an adjustment because of the shortcuts made in the manufacturing process to keep costs down.
Please consider this friendly warning- you might be beating a regular path to the optician's chair for adjustments with online glasses.
The way glasses sit on your head can not only affect comfort, but vision as well.  Especially with progressive lenses, even the slightest adjustment can bring you into or out of focus.  Having a licensed op

tician dispense glasses they ordered for you with the proper measurements and adjust to your maximum vision potential and comfort leads to a successful glasses-patient relationship.  Happy eyes = Happy day!  Well, maybe not but I promise you- unhappy eyes can really ruin your day!
6. What's the warranty?
The online glasses retailers who carry many name brands often do not have a relationship with the manufacturer themselves and cannot rely on the service and warranty available from the manufacturer.  In fact, many of the name-brand frames you find online at low prices are discontinued models.  Depending on the manufacturer, the lifetime for a glasses frame model may be 3-4 years on average.
When a frame is out of production- if the temple breaks, nosepad arm falls off, lenses get a scratch, unfortunately you're looking at buying another pair of glasses.
What happens if the prescription isn't working for you?  You might go in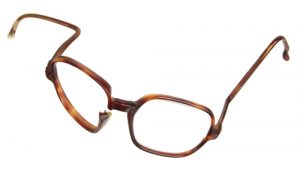 to see your optometrist again and find out the prescription numbers were not exactly right for your purpose… is there an option to have your glasses remade?  The relief of a patient satisfaction policy and warranty against damaged frames and lenses for a valuable medical device that helps you… see… is absolutely worth it.
7.  All Anti-Reflective Coatings are not created equal
There are two types of people in the world – those who love anti-reflective coating and those who hate it.  And you can spot the glaring difference a mile away.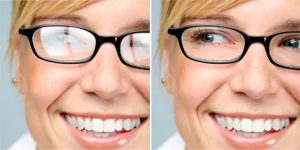 A great anti-reflective coating provides many benefits – glare from light sources are all around us.  Shine that glare through an uncoated lens and it bounces around the lens- creating reflections.  When an anti-reflective coating is properly applied the light passes through the lens into your eye instead of staying in the lens and bouncing around. This does two great things. It allows you to see better, clearer even because you're not competing with glare. And, you're seeing the full picture.  Second the lenses look better.  You don't see the glare and neither does the world looking at you!  They get to see your eyes- instead of a lens full of glare.
However- applying this coating to a lens is a complicated process!  It is necessary that the coating applies onto a certified clean chamber. Any dust that's on the lens before it's coated creates a flaw. That flaw can grow and grow into a cloudy lens that just won't ever feel clean.  Have you had non-glare coating like that?  It might be a bad enough experience to put you in the hate crowd.
We'd encourage you to give anti-reflective coating another chance- from a store that can educate you about the quality of their coatings. And has a warranty against scratches and damage to back up their quality claims.
Thank you for bearing with us for this discussion on a topic we're passionate about. And, for helping the glasses wearing community understand their options in eyewear and providing reasons why online glasses are not the best choice.  If you have any questions- feel free to email us!  We'd be happy to respond in a future blog post.  Thank you again and best wishes for happy eyes!