Here we are in July- the beginning of summer in the Pacific Northwest and we are READY at Binyon Vision Center!  We know you're asking yourself…
What's #trending in the 2016 sunglasses style?
Here are some of the latest trends for the 2016 sunglasses style:
Clear Frames – classy cool, and more subtle if you're not into bright colors- paired best with dark grey lenses or colorful mirrored lenses.
Round Frames – the retro mainstay is back in a big way echoing the vibes of the 60's/70's scene but fresh and one of this season's must haves.
Mirrored Lenses – as seen… everywhere!  Silver flash, gold flash, blue, green, red, pink – hiding your eyes behind a playful shiny lens. These are perfect for someone looking to have fun in the sun!
Chunky Frames – do you like high impact?  Oversized suns get a fresh update with thick, bold lines and layers of color.
Cateye Frames – a continued shining star in the sunglasses world include new features for 2016 – embellishments, mirrored lenses and ultra exaggerated shape.
Check out these hot looks from our current inventory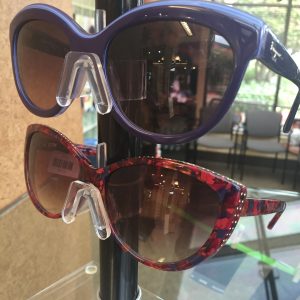 Salvatore Ferragamo SF757S (top), Tura 050 (bottom)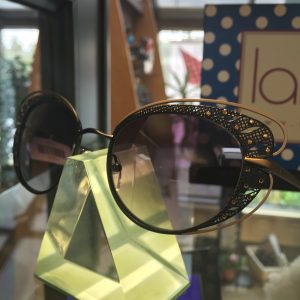 Lafont Paris Scala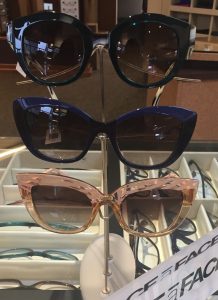 Face à Face: Top to bottom- Movie, Spicy and Coste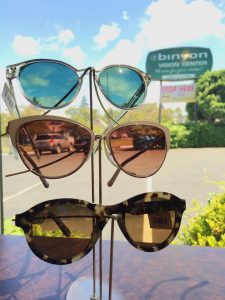 Top to bottom: Seraphin, Calvin Klein, Maui Jim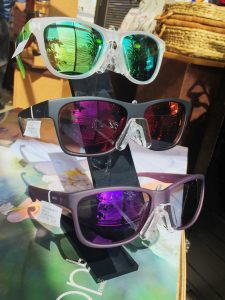 All mirrored suns by INVU®