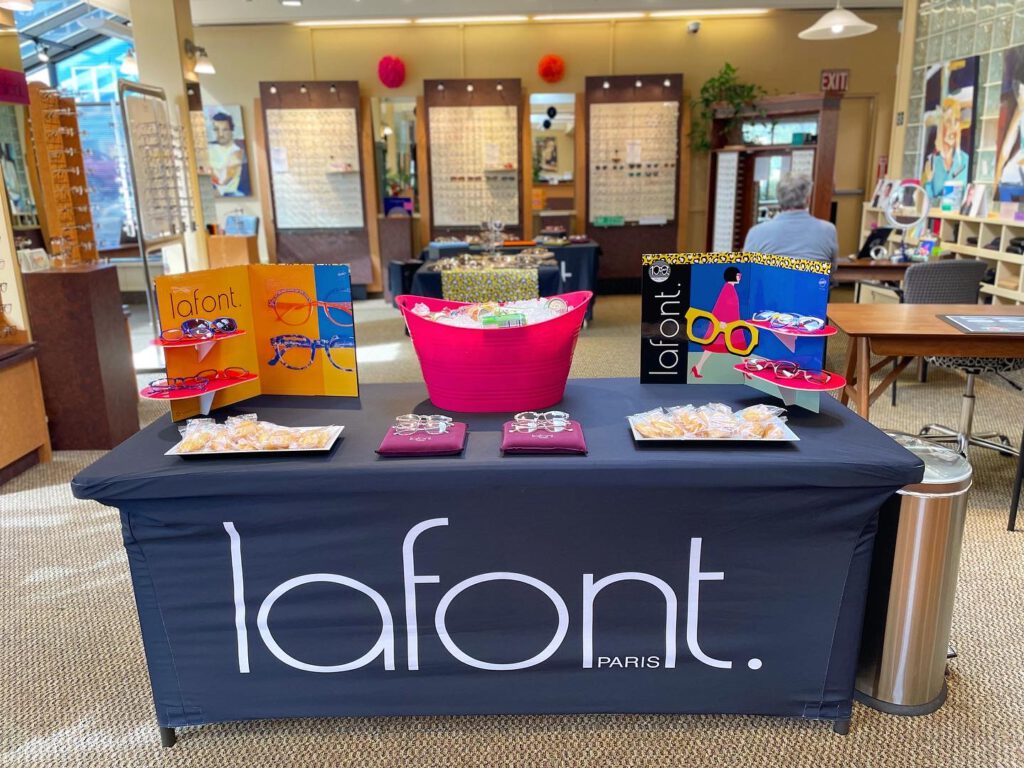 The ENTIRE Lafont Collection on display
There was no doubt on July 12, 2023- Lafont Paris was in the Binyon house in Bellingham, WA. One of the pioneers of the independent eyewear movement and family owned for 100 years – we are always so excited to welcome this company to take over the store and show their extensive and unique line of frames.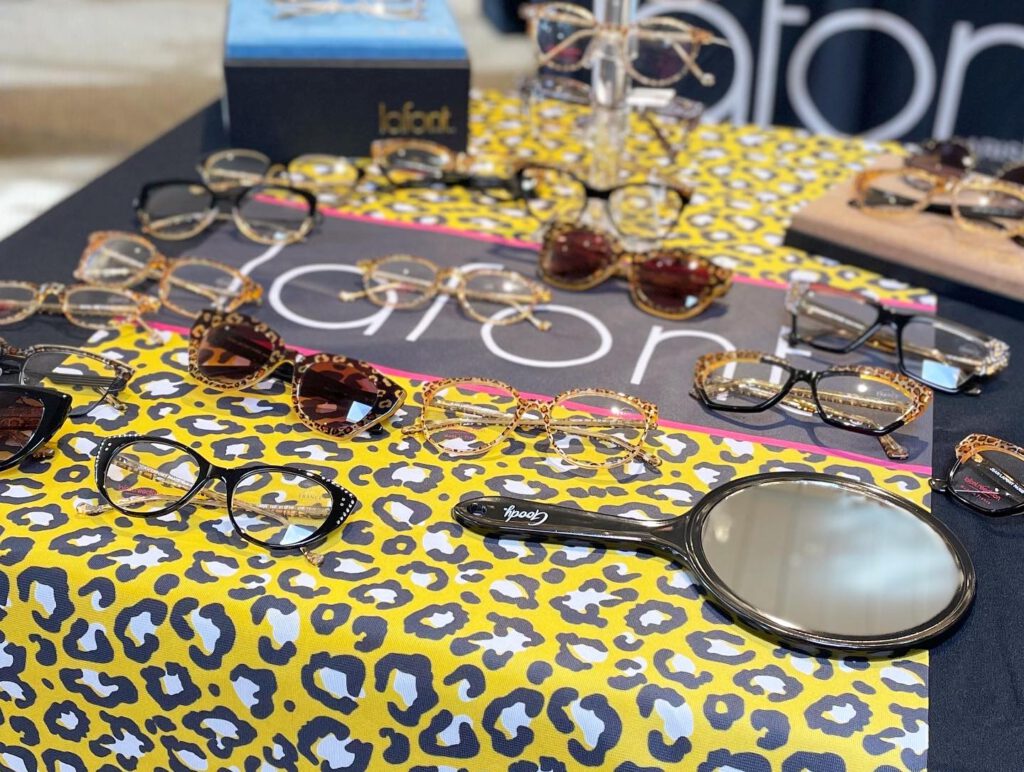 Cheetah, cheetah and more cheetah
A long time signature of the Lafont line is the cheetah print that has graced many a frame style in the last 100 years. One table was dedicated to all of the current frames that come in cheetah print. There are over 18 frames that incorporate cheetah into their color scheme!
My mission – finding my next frame to compliment my current collection!
When I became presbyopic a few years ago and needed progressive lenses to see the fine print- my glasses collection severely reduced in size! I was so excited to peruse the latest Lafont line to find the perfect pair. There were two that stood out immediately- both recommended by the Lafont rep for the Pacific Northwest, Ciara.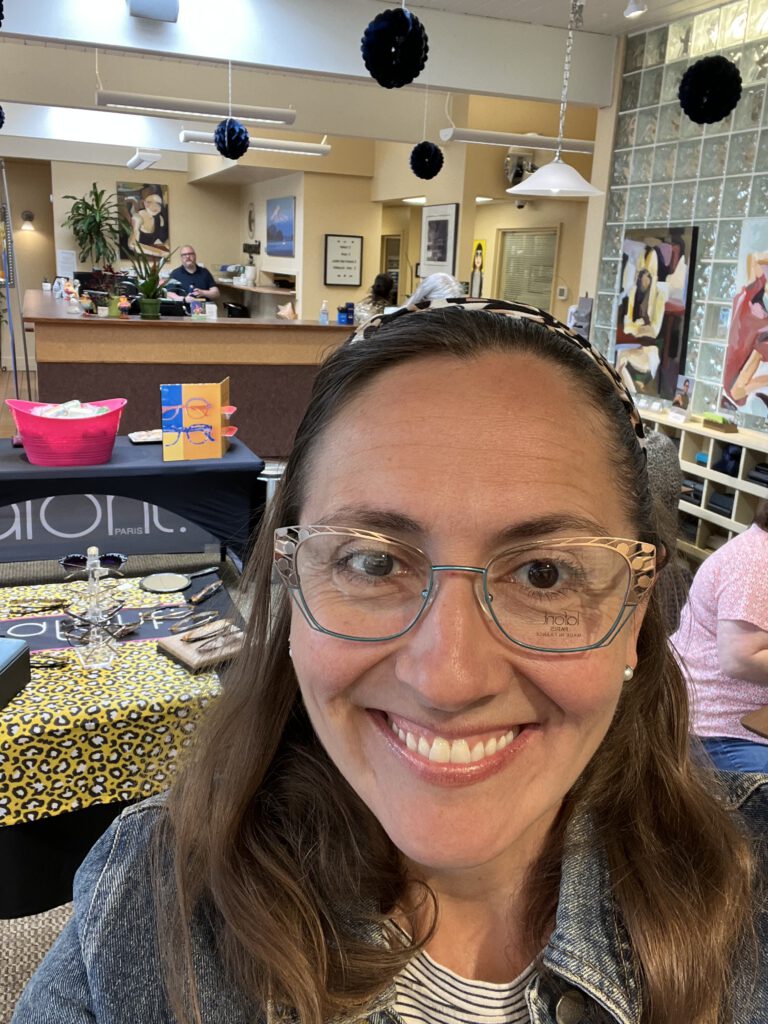 The "Maud" features a metal polka dot motif in an amazing cut out bronze color accented by the bottom light blue. I love the delicacy of the cut outs- I had a previous Lafont frame with a filigree cut out and it looked like a piece of jewelry. Jordan pointed out the bronze color might not wear well in winter without the summer glow, and I had to agree! Maybe next time, Maud.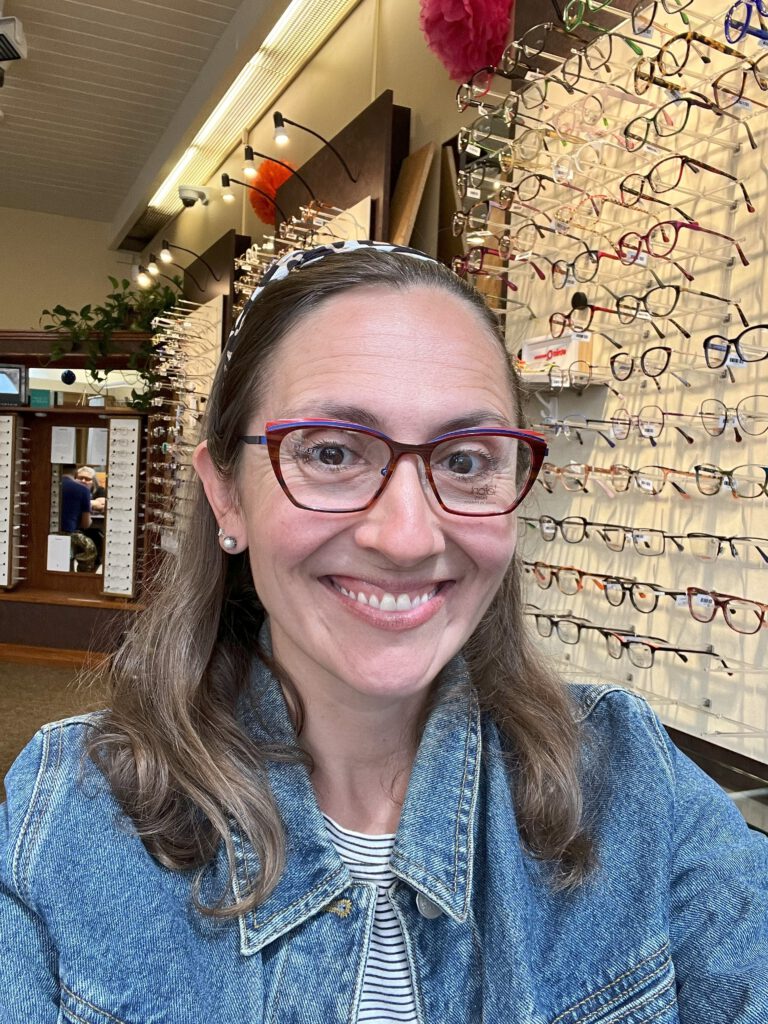 Oh hello "Jeanne" … this is the magic of a trunk show. Jeanne has been at the Binyon store before but in a different color combination. This pop of color combined with lightness and my favorite shape was exactly what I needed. I put these on, and knew I'd found the perfect pair.
After making my final selection, I was excited to be measured by the new tool in the office, the Shamir Spark hands-free measuring tool. Heather sat me down to look in the mirror and showed me how the machine took all the necessary measurements for the progressive lenses, even calculating how far the glasses were from the front of my eyes and the angle from the top to the bottom of the lenses. I'm so excited to get the Autograph Intelligence lenses with these new frames- the best in progressive lens technology.