New recycling options for eye drop containers and contact lens cases!
We are into our fifth year of recycling contact lenses and contact lens packaging as a Terra Cycle partner! A common concern for our potential daily wear contact lens wearers was the amount of waste the daily disposable contacts would generate. We're excited to have this solution available and we've now shipped over 460 pounds of contact lens waste that has been dropped off by you Bellingham for proper recycling. Yes – I calculated that twice to make sure. Municipal recycle pick up would sort out these little pieces of plastic from the recycle and now we've diverted the equivalent weight of a tiger out of the landfill!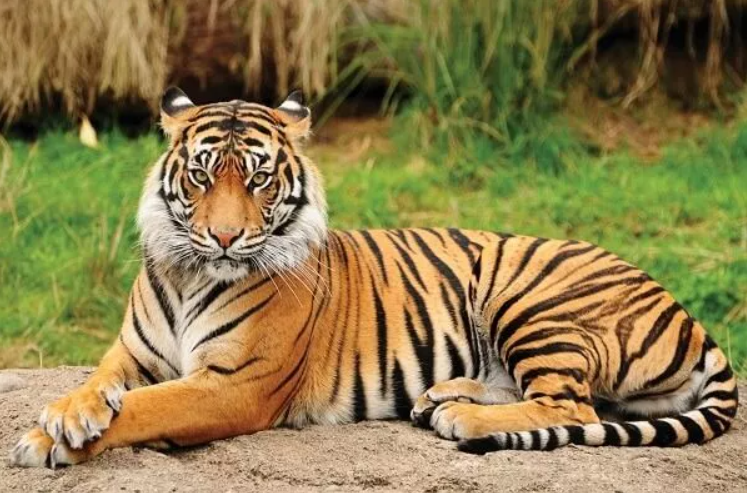 We've worked hard to get the word out about our contact lens recycling program and these results show it has been successful! Now we're excited to introduce a new recycling program available for more eyecare products. Binyon Vision Center is now also a drop off point for recycling the following items:
All brands of contact lens cases
All brands of contact lens solution bottle caps (bottles can be recycled through the city recycling program- but caps are too small!)
Eye drop single dose vials
Eye drop packaging
Hard to remember? Here's a little image to help. If it has to do with your eye care or eye wear and it seems too small to go into the City Recycle… we will probably be able to recycle it!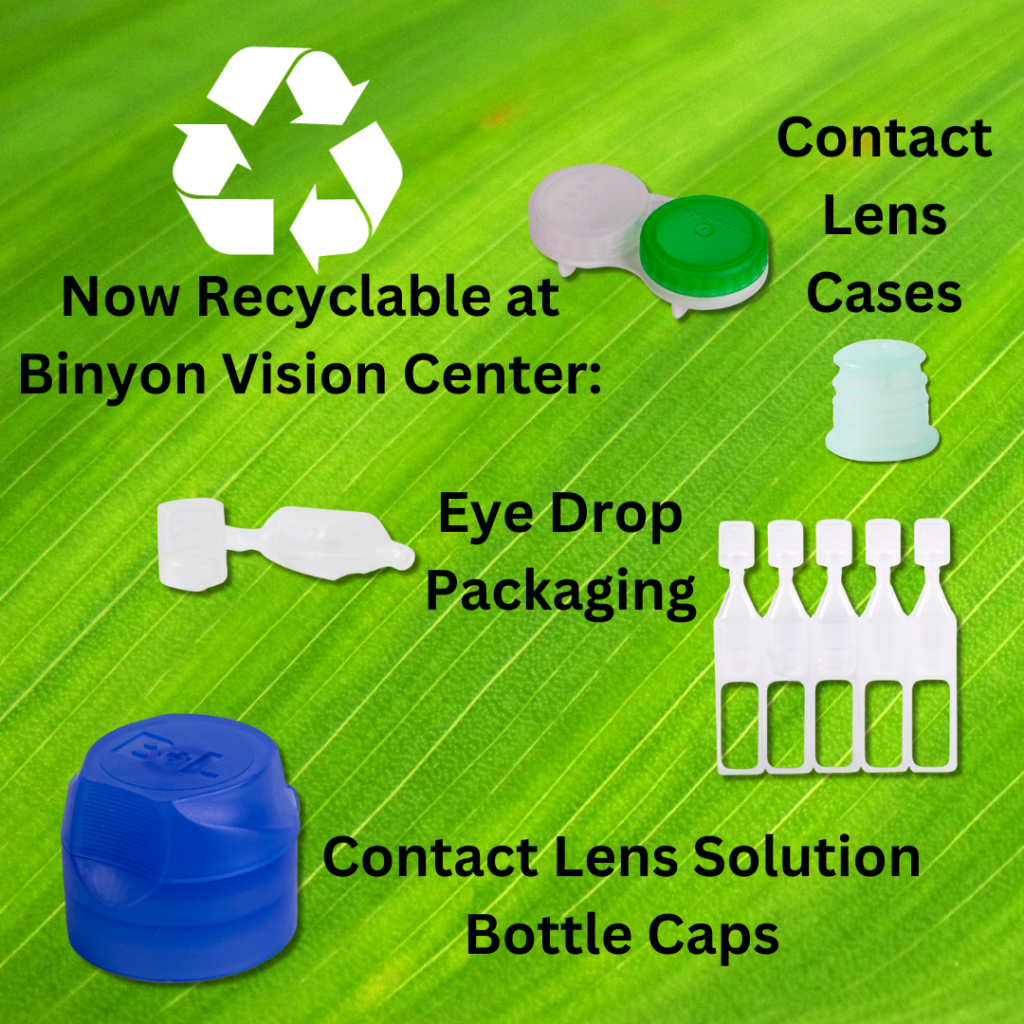 With the addition of eye drop packaging, this spreads to non-contact lens wearers! We'd appreciate helping us get the word out- if you can share this image above with your friends, family members and social media followers we can get more people recycling these items. As with the contact lens packaging, anyone can drop by a container of these products, we'll take the goods and return your container if you'd like. You can drop it through our mail slot (if it fits!) during our closed hours.
Recycling around the office with Ridwell
Our optical business receives many boxes via courier service and various package delivery outfits every day. Yes, this is so fun- new frames for our showroom floor, our patient's completed prescription glasses, office supplies, and more to keep us going! After the thrill of opening the boxes of new glasses, the let down was the amount of unrecyclable waste. Over a year ago, Dr. LeClaire opened an account with Ridwell, a unique pick up service for hard to recycle items. Check out here if they are available in your area.
Recently, we upgraded our Ridwell service to the unlimited plan. This allows us to recycle:
Plastic film (many frame companies send their frames to us in plastic film bags for protection)
Batteries
Threads
Light bulbs
Multi-layered plastic (food storage bags for example)
Clear plastic clamshells
Styrofoam
Latex paint and fluorescent lights for a minimal extra fee
We received a bin to fill for monthly pick up but with our unlimited plan, we can add extra bags (and we always do!) outside of the bin and they will take those also. We love the knowledge the extra waste that comes in the door can be recycled and what is especially cool about Ridwell is they will tell us where it's going! They are transparent and accountable for how and where the recycled materials are used. See more details here.
With Terra Cycle and Ridwell, small recycling steps add up!
You can help us with our mission to divert small eye care waste from landfills – reference the image above and drop by these new items along with your contact lens waste to Binyon Vision Center. If you haven't started using Ridwell yet, we'd encourage you to give it a try! The service can be canceled any time if it's not a good fit. For the Binyon Vision Center team, the peace of mind all of us get from not throwing these previously unrecyclable items into the garbage can is priceless!